Frequently Asked Questions
When can I get in contact with you?
Office hours are Monday through Friday, 8:00am-4:00pm. Contact us at info@atozeventrentalsofpa.com and we will get back with you as soon as possible!
I couldn't find your store – where are you located?
The exact address for our location is 200 N 2nd St, Dillsburg, PA 17019.

Our store is a bit tricky to find! We are located between R&S Fence Company, The Spalon, Inc., and right across from the Five Star Car Wash.

Below is a picture of where our store is located, different route options, and where to park!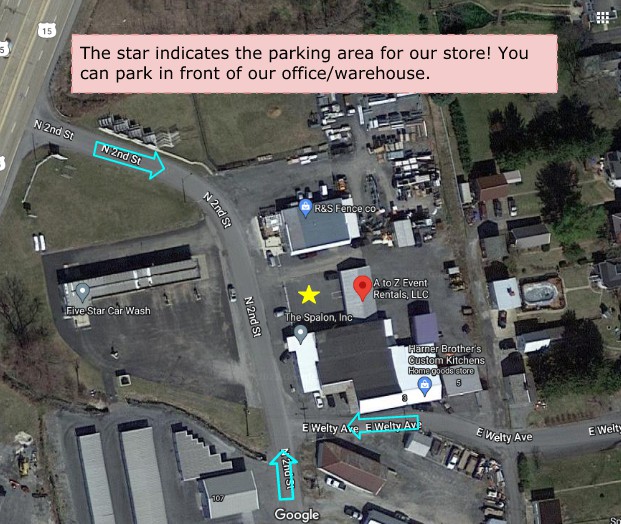 How do I place an order?
Browse our rental items here! When you find an item you would like to rent, change the quantities as needed and select "add to cart". Choose in-store pickup or delivery, proceed to checkout and enter your information. We will be in contact via email with item availability and more details regarding your order!

You can also fill out a contact form and our office team will help you with the ordering process!
How early should I reserve items for my event?
It is never too early to reach out and begin discussing your event! If you don't have exact counts yet, no worries! Rule of thumb is to go with your highest possible guest count and reserve enough for that many. Reason being, as time goes on and items get reserved, the possibility of adding items closer to your event date depends on what is left in stock. You can change counts up to 8 days before your event date. Within a week of your event, we require final counts in order to prep your items for delivery or pickup!
How far do you deliver?
The A to Z delivery team services the south-central Pennsylvania area; 40-50 miles from our location in Dillsburg. We reanalyze our delivery radius at the end of every season, so stay tuned for updates!
Is there a delivery/pick up fee?
Delivery fees are based on the mileage from our location to your venue. To get an estimate, you can order through our website and select the "delivery" option, or you can contact us via email!

In-store pickup of your order is FREE. Some items may not be available for pickup, please contact us for more information!
What do I need to know about in-store pickups?
When arriving at our store, please check in at the office first. We will need to confirm your name for the order so that we can better serve you!
Please take into account the size of your order and the size of the vehicle you will be bringing to pick up your items. This will make the process a lot easier for you!
Our office staff will be on site to help you with your order as much as we can, but you will also be responsible for the loading/unloading of your items into your vehicle. Thank you for your consideration!

Is there an additional fee for early setup?
There is no additional fee for early set up. We understand that timelines can be tight the day of an event and we want you to have plenty of time to get ready! We can deliver your order 1-2 days before the event. If you have chosen in-store pickup, you can pick up your order 1-2 days before the event as well. If available for your date, accommodations for same-day delivery and pick-up, or weekend delivery and pick-up, can be made.
Is there an extra fee to set up or tear down items?
We offer Setup/Teardown services for $2.00 per item. These services must be added to your cart in order to reserve a time slot for our delivery team. If available, services will be confirmed with an email following confirmation of your order.
Stacking chairs, farmhouse tables, arches, dance floors and pole tents include complimentary set up and tear down service as these items require special care by our team!
**excludes DIY and Pop-up tents
Can you deliver to a building with more than one story for an event?
Because of our extensive inventory options and specialty setup, we can only accommodate ground level delivery of rental items. Special accommodations can be discussed if the building has a service elevator that we have permission to use.