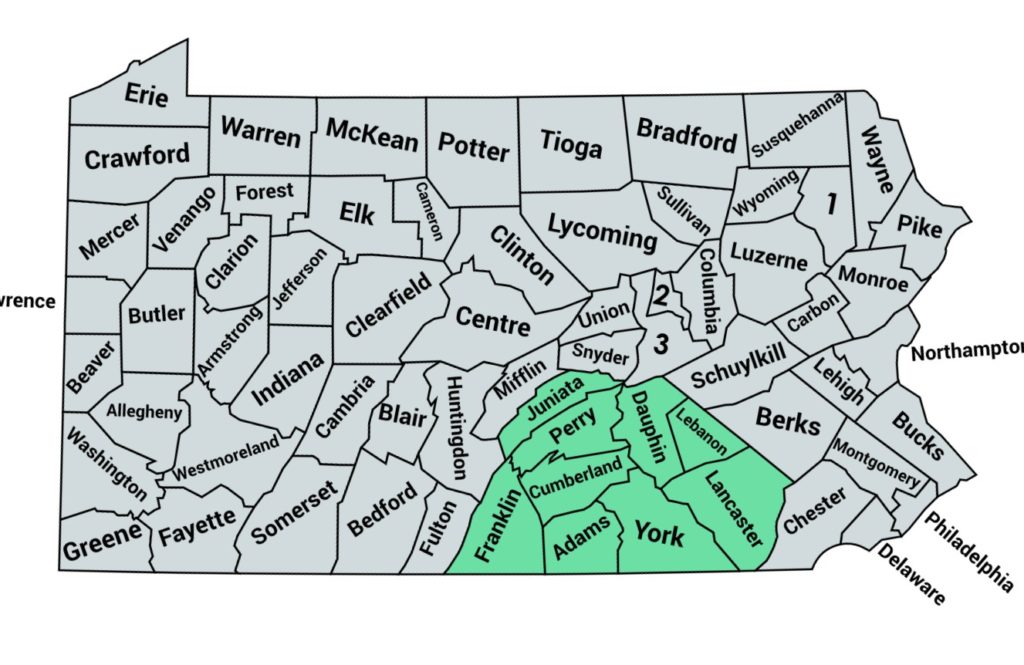 Showroom Location
Our showroom is located at 200 N Second St, Dillsburg, PA. We invite you to make an appointment so that you can see our rental items in person. We are happy to sit with you to discuss your layout and décor plans, and let you rearrange our showroom items to set up a mock scene of your wedding or special event! Brides will find exceedingly helpful, especially when deciding between chair styles and linen colors!
Our showroom also serves as our pick up location if you would prefer to pick your order up instead of having it delivered. Our staff can help you decide if your order will fit in your vehicle ahead of time, so you can confidently decide between pick up or delivery service! All pick ups are scheduled by appointment. We do this so that we can allow for pick ups outside of normal business hours, including evenings and weekends. If you pick your party rental order up, you can set your pick up appointment for up to three days before your wedding or special event!
You don't have to visit our location to make a reservation, you can also reserve directly online, instantly!
Areas We Serve
We deliver party and wedding rentals to all of south central PA, including the counties highlighted in the above map, and also areas beyond this zone on a case by case basis. Whether you need wedding rentals in York PA or corporate event rentals in Harrisburg, our team is happy to offer the most competitive delivery rates (by far) to all areas in the teal colored zone!
Counties and Towns We Serve
Proudly serving all of the following south central pa counties
York
Adams
Cumberland
Lancaster
Lebanon
Perry
Dauphin
Juniata
Franklin
We also serve the following towns (and others, this is no an inclusive list):
Dillsburg, Dover, York, Lewisberry, Red Lion, Spring Grove, York Haven, Hanover
Gettysburg, Biglerville, New Oxford, Ortanna, York Springs
Mechanicsburg, Camp Hill, New Cumberland, Gardners, Lemoyne, Enola, Carlisle, Newville, Shippensburt, Mount Holly, Boiling Springs
Harrisburg, Linglestown, Hummelstown, Hershey, Middletown, Halifax
Lancaster, Elizabethtown, Mount Joy, Columbia, Lititz, Wrightsville
Palmayra, Lebanon, Ft Indiantown Gap, Annville, Grantville
Landisburg, Shermansdale, Newport, New Bloomfield, Duncannon
Mifflintown, Chambersburg, Fayetteville, Fort Loudon, mercersburg
We may also be able to travel beyond this range, but we recommend emailing us to discuss your specific needs! We have the ability to travel anywhere within PA, especially during our off season!
For nearly a decade, A to Z has provided wedding rentals, party rentals, and corporate event rentals to the greater Harrisburg, York, Lancaster and Shippensburg areas! From table and chair rentals to high end linen rentals, our staff is waiting to discuss your event plans with you! You can also shop our inventory and get an instant rental quote directly online!